by Georgina Spyres, Attica Zoological Park (Greece)
Last month, a youth symposium took place at the Attica Zoological Park with several presentations on protecting the ocean environment. Dr Georgina Spyres, Head of Education & Research at the zoo, presented our campaign, highlighting the importance of the oceans and establishing protected areas, overfishing threats and how to consume seafood sustainably.
The GAIA (Global Awareness Investigation & Action) Youth Symposiums bring together high school students, educators, scientists and other professionals from all over the world to exchange knowledge on environmental research and good practices. For this edition, approximately 50 persons attended.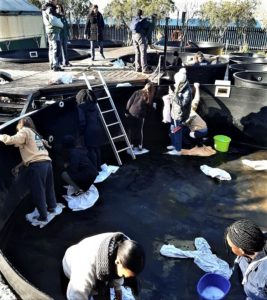 There was a short presentation of the campaign, following a presentation on the rehabilitation of sea turtles and followed by a presentation on creating a sustainable sea food guide for Israel. The symposium also involved voluntary work at the Archelon sea turtle rescue center (cleaning tanks and preparing food).
Did you know Attica Zoo provides sustainably sourced and labeled fish to their zoo animals, as well as 100% of the fish needs (with sustainably sourced fish) to Archelon Sea Turtle Rescue Center?
The next GAIA Symposium will take place in Tel Aviv, Israel on March 4th where the WhichFish? Campaign will once again be featured in front of 150 persons (parents, educators, students, etc.).